気づきから1つ1つ考える
── スキーマ建築計画がつくる空間には、単に格好いいだけでなく、「何か特殊だ」と思わせられる空気感や表情があります。スキーマの特徴について、ご自身でどのように見ておられますか?
長坂 常(以下、長坂) スキーマの特徴ね……、僕が考えることですね。
今まで触れずに気づかなかったことを知るだけでも嬉しいし、考える機会をもらうのはいいことだと思っているんです。
できるだけ踏み込んで中に入って、新しいことに触れたい。そういうことから考えるのが好きなので、設計では同じことを繰り返しません。
自分たちで型を生み出したものについては、同じ系列の店舗でルールを引き継いでいますけど。
それ以外は、できるだけ「これやったら次はこっち」と、マンネリにならないようにやっています。
スタッフのみんながどう思っているかは、知らないですよ。
「また面倒くさいな、いちいち考えなきゃいけない、なんでだよー」みたいなのはあるかもしれない(笑)。
プロジェクトで体験しながら知っていくのは、嬉しいんですよね。
人との関係のなかで、「こんなことが世の中にあるんだな」「こんなことを大事にする人がいるんだ」とか、「こんなところにこんなものがあった」とか、気づくことがあって。
Thinking one by one from awareness
── The spaces created by Schemata Architects are cool and have air and an expression that makes you think there is something special about them. How do you see the characteristics of schemata yourself?
Jo Nagasaka (Nagasaka): The characteristic of schemata is that I think about something.
I'm happy to learn about things I didn't notice before, and I think it's good to have the opportunity to think about things.
I want to step in as much as possible and get inside and experience new things. That's the kind of thing I like to start thinking about, so we don't do the same thing over and over again in design.
When we create our molds, we carry over the rules to the same group of stores.
Other than that, we try as much as possible to avoid getting into a rut, saying, "If we did it this way, we'd do it that way next."
I don't know what the staff thinks about it.
They might be thinking, "Oh, it's so tedious again, I have to think about every single thing, why? (laughs)
I'm happy to learn as I experience the project.
Through my relationships with people, I became aware of things like, "I didn't know there were these kinds of things in the world," "There are people who value these kinds of things," and "I didn't know these things existed here," and so on.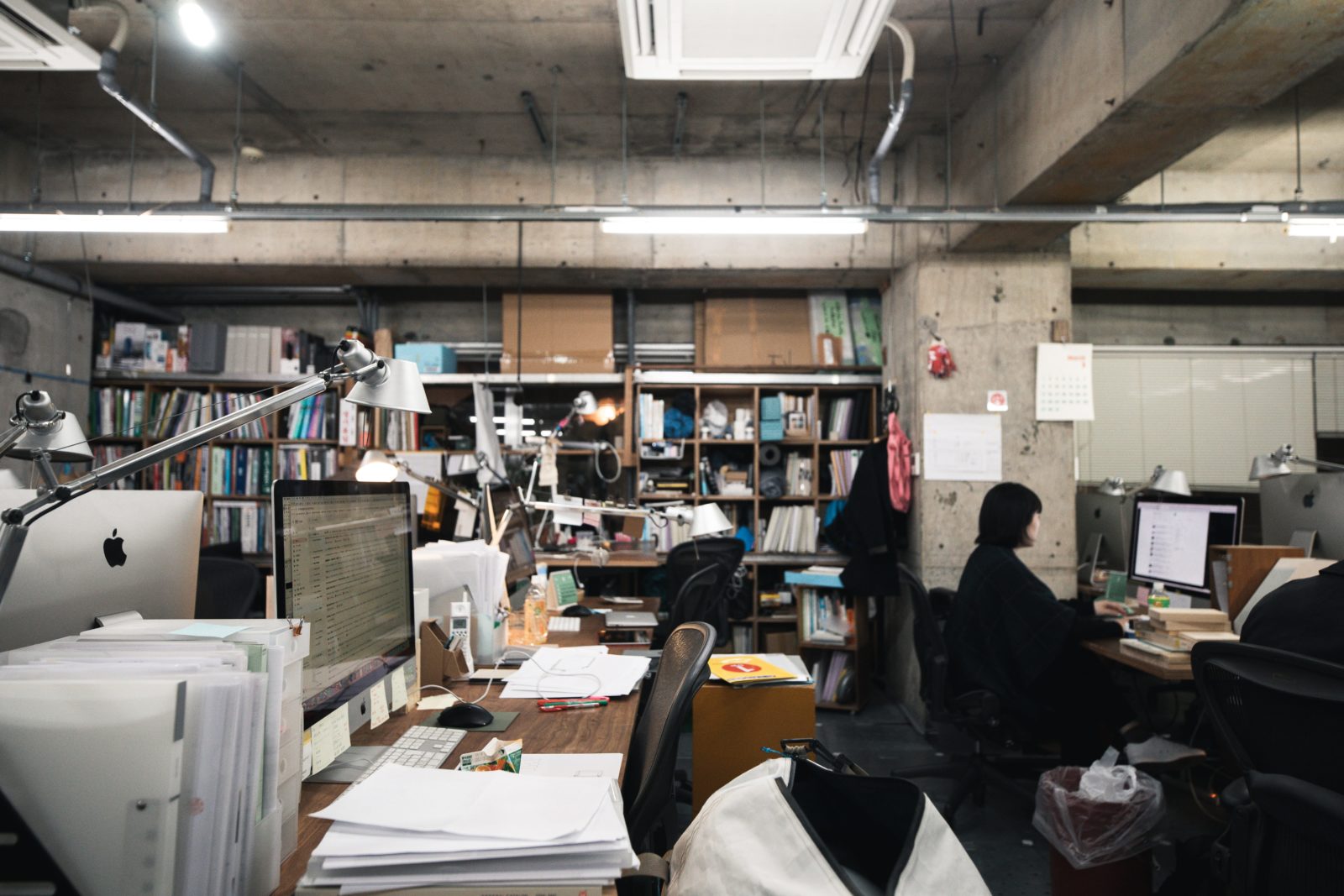 面白い考えに触れて協働したい
── 最近のプロジェクトで、具体的な例を挙げていただけますか?
長坂 これまでに事務所でやったことのなかった、銭湯を設計しています(註:2020年8月にオープン予定の〈黄金湯〉)。
「銭湯ってこういうことを考えなきゃいけないのか」とか、「銭湯に通うこういう人たちがいて、こんな生活があるんだな」みたいなことを、プロジェクトを介して知ることができるんです。
そこにどうやって変化球を投げて、違うように持っていけるか、生活を変えることができるかということを考えます。そういうのが好きなんですよね。
もし住宅の設計を繰り返していれば、同じディテールの使い回しもできるし、カタログはだいたい同じところ見ていればいいとなるんですけど。そうはなりませんねぇ。
銭湯をやった後に、住宅をやって、洋服のショップをやって…というように、全然違うので。
なんだかお客さんもそれを分かっていて、そういう種類の仕事を依頼してくる人が多いような気もします。
答えが用意されていて、「あの人に頼めば、こうやって売上が立つからお願いしたい」というクライアントは、たぶんウチには来ません。
自分も、そうした話をされても響かないですし、あんまりよく分からないんですよね。
「オシャレにしてください」って言われても、ピンとこなくて。
もちろん美学はあるので、みっともないものはつくらないことは意識しています。でもデザインだけをパパっと、やれないんですよね。消費するようには。
ハートがないというか、アイデアのないものには、こだわりを持てなくなっちゃいます。最初にアイデアとか気持ちがあって、初めてデザインがこだわりになってくるかなと思って。
デザインが格好いいのは当たり前で、それ以上にもうちょっと面白いことに関わりたいなと思っています。面白い考え方に触れて、その人たちと一緒にその後の関係も築いていきたい。
そういうのが、ウチの特徴だと思います。
Collaborate on some exciting ideas
── Can you give us some examples of recent projects?
Nagasaka: We are designing a public bathhouse that we have never worked on in our office before (note: <Kogane-yu>, scheduled to open in August 2020).
Through this project, we can learn things like, "Is this what you have to think about when you go to a public bathhouse?
I think about how I can throw a change in there and bring it indifferently and change their lives. That's what I like to do.
If you design a house repeatedly, you can use the same details, or you can look at the same thing in a catalog. But it doesn't work that way.
Doing a public bathhouse, then a house, then a clothing shop… it's completely different.
It seems that customers understand that, and that's why many of them come to me for this kind of work.
A client who has a ready-made answer and says, "If I ask that person, this is how I can get sales, so I'll ask for it," probably won't come to us.
I don't respond to that kind of talk either, and I don't understand what they're talking about.
Even if they asked me to "make it stylish," I wouldn't get it.
Of course, I have an aesthetic sense, so I'm conscious of not making things that look ugly. But I can't just design something and do it quickly. It's like consuming something.
If you don't have a heart or don't have an idea, you won't be able to stick to it. It's not until you have an idea or a feeling in the beginning that the design becomes an obsession.
It's natural for design to be cool, but I'd like to be involved in something a little more interesting than that. I want to come into contact with exciting ideas and then build a relationship with those people afterward.
I think that's what makes us unique.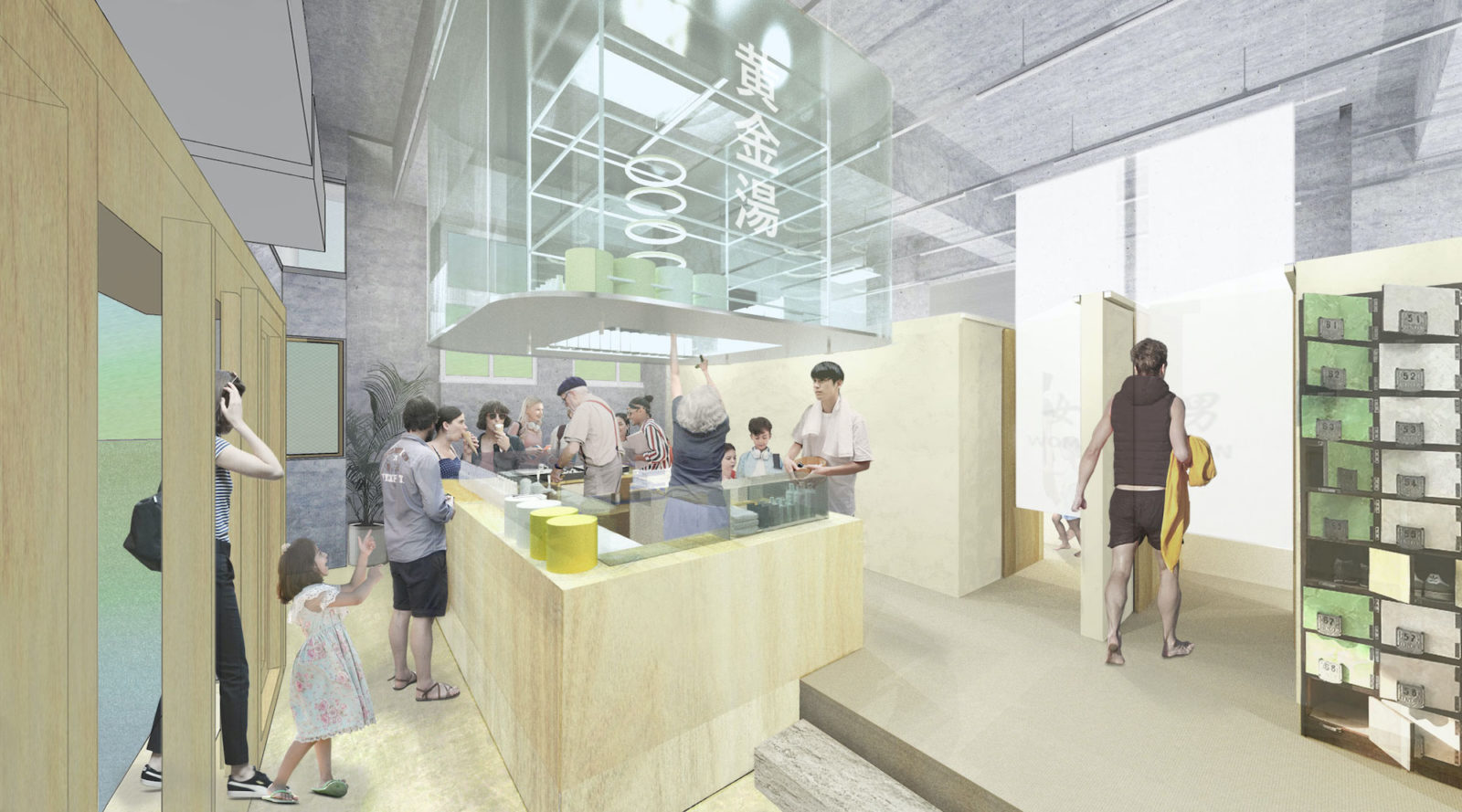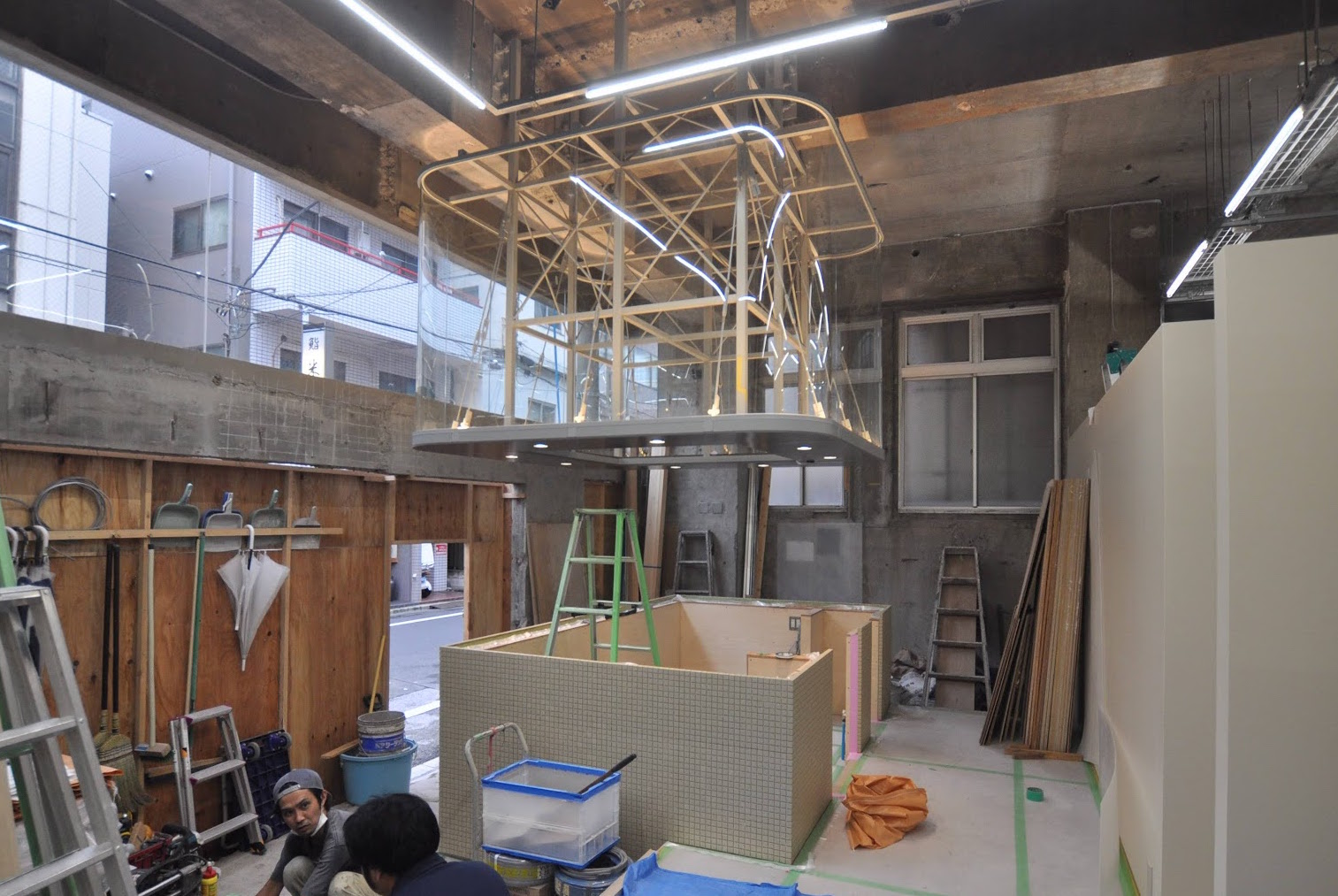 答えのないプロジェクトに、あえて取り組む
── まずは面白い考えや状況ありき、ということですね?
長坂 そうですね。以前につくった、〈桑原商店〉もクライアントが面白い方々でした。お酒を倉庫で買って、その場で飲む「角打ち」という形態のプロジェクトです。
もともと酒屋を大通り側でやっていて、裏の通りに面した側が倉庫だったんですよ。
上に住んでいるのは13人家族で、ひいおばあちゃん、おじいちゃん、おじいちゃん、その息子家族、そんなふうに4世代が住んでいて。
「家族で一緒に、下の角打ちで楽しく働ける環境をどうつくったらいいか」という相談を受けたんです。
それはやっぱり、面白いですよね。
答えにならないようなプロジェクトを、僕らはあえてやっていて。
〈東京都現代美術館〉のリニューアルで、サイン什器と家具を依頼されたときは、「既存の建物に触れることなく、家具で今までの問題を解決したい」という相談でした(註:〈東京都現代美術館 サイン什器・家具〉)。
「隣の公園から人を引っ張ってきて、共用部を普段使いしてもらえるようにしてほしい」と。
そう言われても、家具でなんとかなる範囲ではないのではないかと…。
でもまあそういうことも前向きに捉えて、「実験してみましょう」という感覚で計画を始めるんです。
ここでは「家具ではないインターフェース」と呼んでいる、家具とも建築ともいえない造作物にしました。
Dare to tackle a project for which there is no answer
── So, first of all, you have to have interesting ideas and situations?
Nagasaka: That's right. The clients of <Kuwabara Shoten>, which I created before, were also interesting people. It was a project where people bought alcohol in a warehouse and drank it on the spot.
They initially operated a liquor store on the first street side, and the bottom of the building facing the street in the back was a warehouse.
A family of 13 people lived upstairs: a great-grandmother, a grandfather, a grandpa, and his son and his family, so four generations were living up there.
They asked me for advice on creating an environment where they could enjoy working together as a family.
That was interesting.
We ventured to work on a project that had no answer.
When we were commissioned to create signage and furniture for the renovation of the Museum of Contemporary Art Tokyo, we wanted to solve the problem of using furniture without touching the existing building (Note: <Signage and Furniture Design for the Museum of Contemporary Art Tokyo>).
They asked us to bring in people from the park next door and make the common area available for everyday use.
That's a bit of a stretch, but it's not something that can be done with furniture.
But I take a positive view of these things and start planning with the feeling that we're going to experiment.
I created what I call a "non-furniture interface," a structure that can neither be called furniture nor architecture.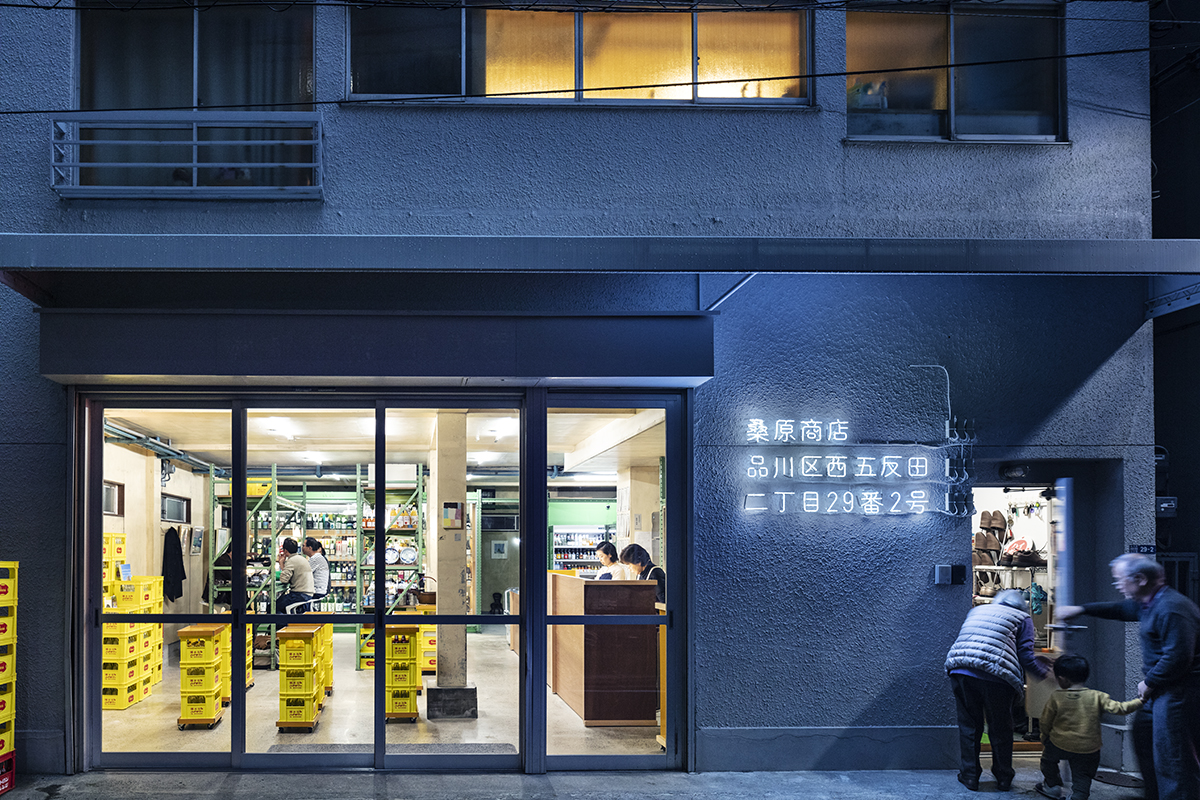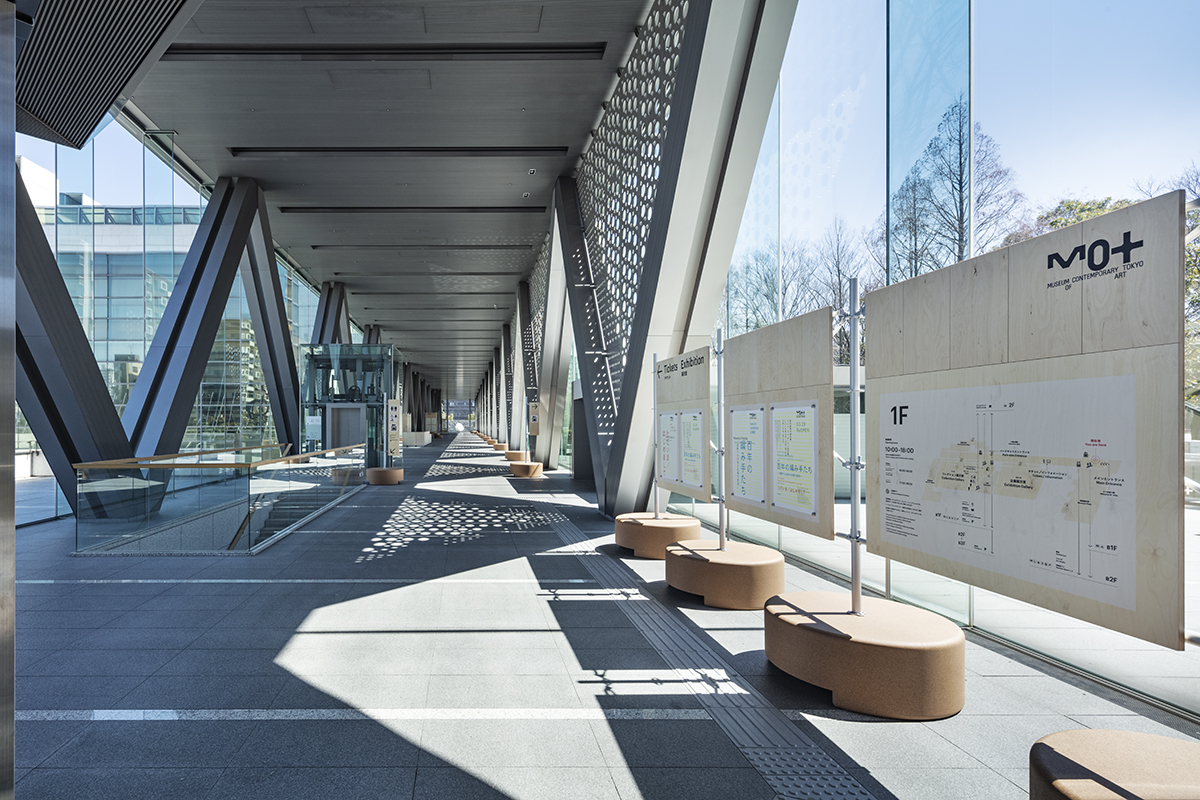 状況から一緒に場所を考える
長坂 ほかには今、韓国の済州島(チェジュ島)で〈D&DEPARTMENT JEJU by ARARIO〉という体験型宿泊施設の計画を、D&DEPARTMENTのナガオカケンメイさんと一緒に進めています。
以前はどこか地方でワークショップをするとき、主催者は招待作家に、地元の普通のビジネスホテルに泊まってもらっていました。
ワークショップが終わって勢いがあれば近くの居酒屋に行って、おやすみなさいと解散してホテルに泊まる。でもそれでは、作家から地元の方々に何も伝わりません。
アートインレジデンスではその人が絡んで1晩や2晩、1週間でもいいのですが、滞在する作家が地元の人たちと一緒に何かをすることによって、地元の人たちの得るものが大きくなります。
作家も、その土地のことを知ることができ、そこをきっかけに新しい作品をつくっていくことができる。
そのような場所をつくりたいので、一緒に考えてもらえませんかという話でした。
〈D&DEPARTMENT〉という場所はフランチャイズのように、地元のクライアントが出資してやっていたのですが、今回は中長期滞在向けの宿泊付店舗〈d news〉までつくるという計画で始まりました。そうして、ショップと地元の食文化や郷土料理を紹介する〈d食堂〉も併設することになりました(註:#03 でもプロジェクトの背景を紹介)。
(#02 突然の仕事も乗ってみる に続く)
Think about the place together from the situation
Nagasaka: I'm also working with Kenmei Nagaoka of D&DEPARTMENT on a project for a hotel called <D&DEPARTMENT JEJU by ARARIO> on Jeju Island in Korea.
In the past, when they held a workshop somewhere in the countryside, the invited artists were accommodated in a local business hotel.
If the workshop was over and there was momentum, they would go to a nearby pub, say goodnight, and break up and stay at the hotel. But in that case, the artist would not be able to convey anything to the local people.
In an art-in-residence, it doesn't matter if that person is involved and stays for one night or two nights or even a week, but the locals will get more out of the artist's stay by doing something with the locals.
The artists will be able to get to know the locals and create new art works through experience.
They want to create such a place, so they asked us to think about it with them.
The "d news" place was funded by a local client, just like a franchise, but this time we started with a plan to build a hotel as well. This time, we started planning to build a hotel <d news>, and we ended up with a shop and a restaurant <d dining> (Note: #03 also provides some background on the project).
(Continued on #02 Try to ride a sudden job)